Love is a flight … When we love, we simply forget that we are standing on the ground. Invisible wings of joy and happiness grow behind your back. And we are ready to perform any miracle! So let's not lose warm summer nights and give your loved ones a romantic dinner on the roof.
The city from the height looks simply amazing, spilled with a lot of bright lights. And so much of the sky with enticing stars or amber sunset, gentle silence and walking air, and a terrific feeling that you are alone in the universe.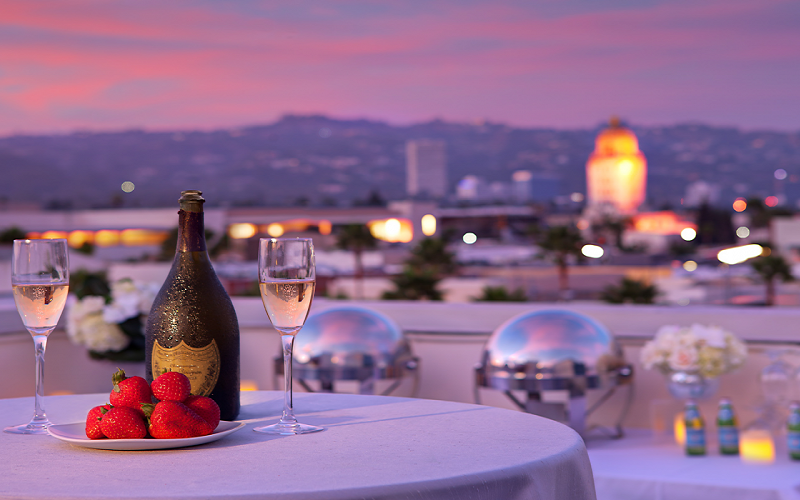 At first glance, the idea may seem too bold and insane, but if you are full of romance, we assure you will like it! So, first you need an open flat roof, it is safe, and it can comfortably accommodate. Then we need to think over what to set up. The most convenient thing is just rugs and pillows. For a day the roof heats up, it will not be cold exactly. If this is your entrance, and the output in the attic allows you to take out a small table, then boldly apply this solution. In order to cover the table or simulate it on something else, you will need a tablecloth. One equally important element of dinner for two are candles. We would advise you to buy candles in an aluminum sleeve. They can be arranged without special adaptations, and with gusts of wind, they do not attenuate especially. There may be other evening additions such as flowers, balloons, hookah or music. This is already according to your wishes. Read more: 5 best ideas for a romantic date!
As for all sorts of goodies, it is not necessary to arrange a chic table. And not even because of the lack of home opportunities. Simply, you will be so carried away by the beautiful surrounding view and each other that you do not want to be distracted by food. But the foregoing does not mean that you have to go to waste. A bottle of wine or champagne, fruits, and light snacks are the main ingredients of a romantic dinner on the roof. And our rubric "Romantic recipes" always tells you what to please your loved one. Read more: 5 tips on how to become the best wife for your husband
If you do not drink alcohol, then all kinds of tea drinks and cocktails can become a substitute. They are tasty and fragrant. And that the tea does not cool, bring it with you in the thermos.
Dinner is better arranged in the evening or at night. This time of day brings not only romance but also the confidence that you will not be disturbed by strangers.
When you stay with the second half, forget about everything, but do not forget to say: "I love you!"
It may like also: http://anxietyreduction.com/rest-summer-ideas/