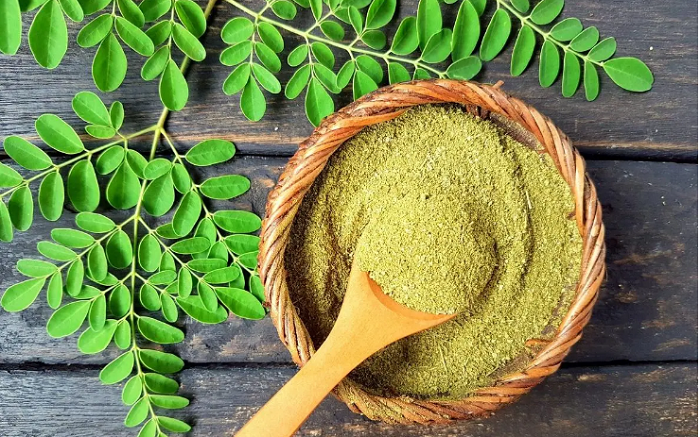 Moringa oleifera is a Himalayan tree that is now grown in many countries of the world and contains 90 nutrients that are very beneficial to human health. The Moringa leaf is rich in antioxidants, among which isothiocyanates that appear to have anti-cancer properties, hypotensive, hypoglycemic and antibiotic.
Nutritional benefits of moringa
Moringa has multiple uses and benefits and all its parts are edible: bark, pods, leaves, nuts, seeds, tubers and flowers. Here are the nutritional benefits of moringa.
Antioxidants are chemical compounds that slow or prevent the oxidation of the molecules in our cells.
Oxidation is a chemical process that produces a loss of electrons from the atoms of our molecules.
This loss of electrons can produce free radicals.
The free radicals are molecules having atoms with unpaired electrons.
These electrons will seek to pair with other atoms of other molecules that can also end up becoming the latter into free radicals.
This process can trigger excessive production of free radicals that will end up damaging our cells. And if our cells are damaged, our body ages.
The Moringa has a great ability to eliminate excess free radicals in our body and here's another scientific study confirms.
Another benefit of the Moringa leaf is that it is very rich in protein and contains a very balanced essential amino acid profile. It also has large amounts of vitamin A. Moringa has a valid pharmacological base as a substance that can lower cholesterol levels.
Many scientific studies show how Moringa lowered high cholesterol levels in rats that had previously been given a high-fat diet. The plant increases our energy levels during the day and sustains them without altering our nervous system. Moringa also seems to have positive effects on fighting type 2 diabetes.
Read also: 13 natural remedies for chest congestion
Nutritional value of moringa (Fresh leaves and dried leaves)
Niacin (B3): 0.8mg and 8 mg
Vitamin A: 6mg and 19mg
Vitamin C: 220mg and 17mg
Riboflavin (B2): 0.05mg and 21mg
Calcium: 440mg and 2000mg
Carb: 13g and 38g
Protein: 7g and 27g
Calories: 90cal and 200cal
How to use Moringa?
I recommend that you consume Moringa in capsules because it is more comfortable than in powder form. Do not take Moringa at night because it gives energy and could keep you awake. Experts recommend taking 3 to 4 Moringa capsules per day (2 grams of Moringa per day).
Ideally, take 2 capsules before breakfast and another 2 before lunch to better use their nutrients. Where to buy high-quality Moringa? You can buy it online at Amazon. Lots of companies marketed it.
Eating method of moringa leaves
Consuming the leaves is as simple as consuming it in capsules. If you have a tree at home, you can simply tear the leaves and consume them directly, a handful of 5 to 10 leaves are enough. Its taste is not bad, a little strong but tolerable, and if it becomes customary, the benefits are great.
The leaves can be prepared with other foods in the kitchen. Moringa can be used as a spice or mixed with flour. Some ideas to prepare our moringa leaves are the following: in combination with cornmeal such as torillas, tamales, arepas, etc., as a mixture in our homemade bread, in baked cookies, in pizza dough or as an ingredient.
Consume Moringa seeds
That's right, moringa seeds are also consumed, and can be used as a dietary supplement. They also contain high nutrients and are known to contain the famous moringa oil, which contains all omegas, 3, 6 and 9. The way in which moringa seeds should be consumed is as follows.
Peel the seed, a white-yellow ball must be exposed. Machucala a little, this will make it easier for the body to digest it. Swallow it with the help of water, just as if it were a capsule.
For people who have trees and don't know what to do with all the seeds they give, they now know. 2 seeds a day, one in the morning and the other in the rest of the day is the ideal way to consume them.
Moringa is hypoglycemic. It can reduce blood sugar levels incredibly. It makes the blood thicker. If you are in medical treatment to thin the blood, consult your doctor before consuming Moringa.