Beauty Tips
Zombie makeup for Halloween Party (homemade and easy!)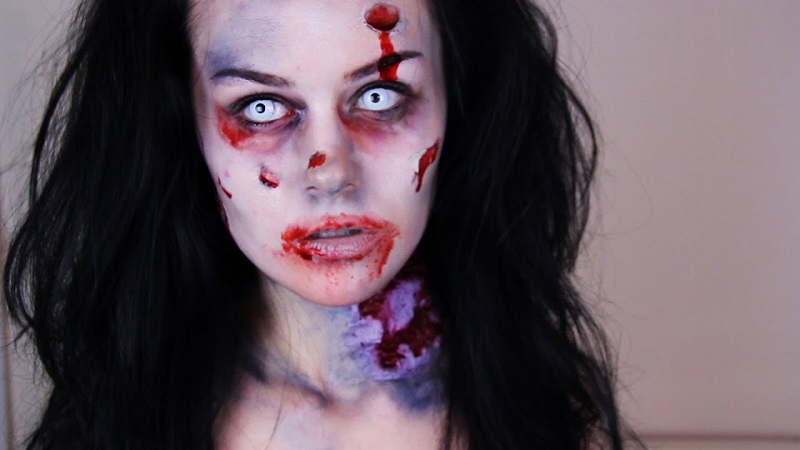 It is one of the most classic horror make-up, learn how to make up a zombie in a simple way!
The makeup zombie is a must for any Halloween party, but also a great idea to carnivals to celebrate the Pride Zombie on February 4.
It is a simple and very striking costume, great to succeed on dates!
You will not need too many accessories, just old clothes, facial makeup, and some other element that enhances it such as latex wounds, contact lenses, and artificial blood.
Find out how to make easy zombie makeup in 7 steps!
1. Face painting
Choose a good face paint for your face that does not stain and is not sticky. It is best to use aqua color paints so that you can mix paints and get the right shade.
You must mix green, black, and white to achieve the dull and dry tone of a true undead.
Use the right paints for your zombie makeup.
2. Latex wounds and scars
The wounds latex will touch scariest your zombie costume, as they seem totally real!
In the market, you can find latex cans to make your own wounds and scars. Once done, you will only have to paint it red and paint the edges of the latex with the color of your base to integrate them into the makeup.
When you paint the wound you must shade with other shades of red and garnet, it is best to help yourself with eye shadows.
Latex wounds and scars for a zombie costume. Wounds latex give a terrifying twist!
3. Artificial blood
Artificial blood is an essential element in a zombie costume. In addition to making it much more terrifying and unpleasant, it will help you hide the edges of the latex and the pustules and wounds will appear much more real.
Let the artificial blood drip down your face, it will be an amazing result!
Artificial blood for zombie makeup. Blood is essential in a zombie.
Shading and contouring
The shading is very important for your zombie makeup to stay professional. Use eyeshadow to contour heavily for a haggard look.
You will use eye shadows and not a bronzer because to highlight the green color you must contour your face with black and dark green.
Highlight the dark circles, corners of the mouth, and cheekbones and lightly shade the nose and forehead to give you an aged look.
Zombie shading and contouring. The contours and shading must be dark.
5. Body makeup
Don't forget to put makeup on the rest of your body! If your facial makeup is a zombie you cannot have perfect hands.
Paint your hands with the same color that you have painted your face and shade with black (blurring very well) the bones of your hand.
You can add a little artificial blood to make it even more real!
Make up the zombie's hands. Putting on your hands is essential.
6. Colored lenses
The colored lenses are optional but can give a perfect touch to your costume to make this even scarier.
There are tons of colored lenses that can look good, from white to yellow with monstrous pupils.
Colored contact lenses for a zombie costume. Colored contact lenses make for a much more complete costume.
7. Old and torn clothes
Find old clothes to complete your costume, get them dirty, tear them up, and stain them with artificial blood. Wear long-sleeved clothes so you don't have to put makeup on the rest of your body, you'll save work and paint.